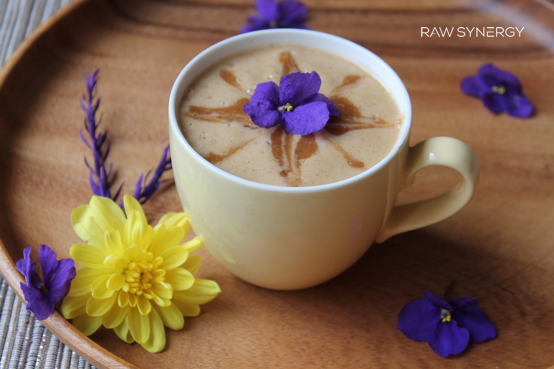 This is the most dreamy, delicious, healthy beverage – warm or cold. It will make you swoon! It reminds me of a really sweet cafe latte or a Starbucks frappuccino, depending on how you make it. So it's very helpful for those trying to get away from designer coffee beverages. It's calorically dense, not too big, super satisfying and tastes Ahhhh-mazing!
Ingredients:
8 oz. of your favorite fresh dates (pitted) I love halawy, khadrawy, barhi or medjool dates
16 oz. of fresh coconut water from a young thai coconut
a pinch of vanilla (powder, extract or fresh vanilla bean)
*optional 5-10 drops of raw vegan organic coffee extract from medicineflower.com
The coffee extract is not necessary for this recipe and is really for those who want a coffee flavor. This drink is so great without it too!
*Increase the ingredients accordingly based on your personal needs*
Directions:
Blend all ingredients until smooth, pour into your favorite mug and enjoy! If you use a blender like the Vitamix, you can actually blend this drink until warm or hot on a chilly day for a more cozy "coco" or "coffee" experience.
Can also be poured over ice for a cold drink or blended in a Vitamix with ice, or frozen coconut water ice cubes, for a frappuccino-like, refreshing blended drink.
Dreamy, Delicious Raw Coco Date "Latte" Recipe Video