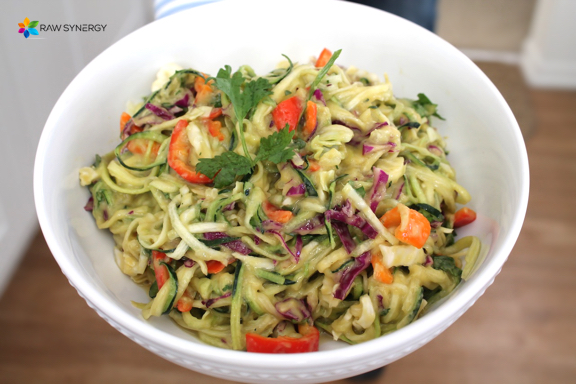 Sometimes you just want something different. That was me last week at dinner time. Standing in front of the refrigerator, staring blankly at its contents, I knew I wanted a savory noodle dish of some sort but I wasn't sure what. I had part of an incredible Reed avocado that I needed to use up and I searched the fridge for additional ingredients to throw together. This avocado mango sauce is what I came up with. 
It was super creamy and a little tangy and it hit the spot.
Ingredients:
16 oz zucchini spiralized or julienned into noodles
1/2 cup green cabbage
1/2 cup purple cabbage
1 1/4 cups red bell pepper cut into thin, 1 inch strips
1/4 cup of fresh cilantro, more if you love cilantro like I do
5 medium basil leaves chopped or cut into thin strips
1/3 cup avocado
1 cup sweet, ripe mango like a kent, haden or keitt
1/2 cup chopped celery
1 TBLS fresh lime juice
*2 tsp tamari or coconut aminos (optional)
Directions:
Spiralize or Julienne zucchini into noodles and place in a large bowl. Add cabbage, bell pepper, cilantro and basil
Blend avocado, mango, celery, lime and optional tamari and pour over noodles. Gently mix noodles and sauce together
Can be garnished with fresh chives for additional flavor
Many blessings!