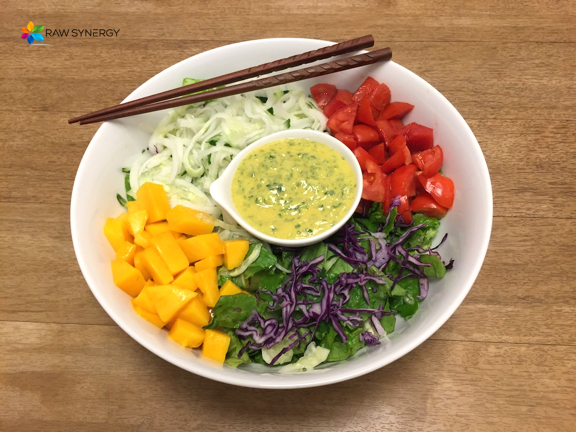 I was having a major craving for a crisp, romaine salad with a cilantro dressing last night. I always have lots of cilantro in the fridge and I was ready to create something new. I threw a bunch of ingredients into my mixing cup and searched the fridge for cilantro, only to find two half used bags of mostly spoiled cilantro. *Long deep sigh*
I could have easily just blended the ingredients I had and added some basil instead but that's not what I was wanting. My body needed cilantro! My husband was so sweet to drive me to the store so I could run in and grab some. Thank you giant grocery store on the corner for having a decent size organic section with plenty of fresh cilantro bunches!
Here's what I came up with for the dressing…
Ingredients:
1/2 cup mango
1 TBLS plus 2 tsp Raw Organic Apple Cider Vinegar
1 small garlic clove
1 tsp minced fresh ginger
2 TBLS hemp seed
1 TBLS fresh lime juice
1/2 cup fresh cilantro
* 1 or 2 tsp of 100% pure maple syrup (optional if you're like me and you like a sweeter dressing)
* pinch of salt (optional)
* chopped green onion or chives for garnish (optional)
Directions:
In a blender like a Vitamix, blend mango, vinegar, garlic, ginger, hemp seed, lime juice, maple syrup and salt until smooth. Add chopped cilantro and stir it into the dressing. 
Pour over your favorite greens and add green onion or chives for garnish. You can also top your salad with another tablespoon of hemp seeds.
For my salad, I used romaine lettuce, cucumber noodles, mango chunks, fresh tomatoes and a handful of thinly sliced purple cabbage. 
Enjoy!