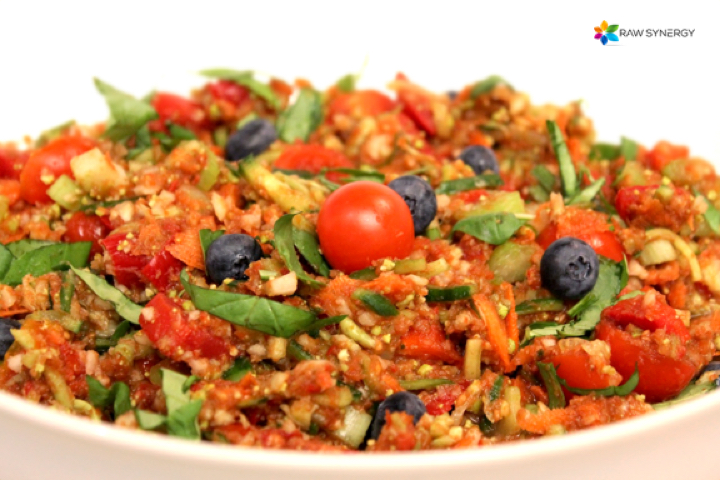 When you're in the mood for something a little more dense, filling and savory, instead of reaching for cooked carbs, try a raw vegan, savory vegetable "rice" dish. This recipe can be a delicious and filling meal on its own, or paired with a salad, used as a filling to stuff peppers or tomatoes, and would even be great stuffed into lettuce leaves for a yummy wrap! This was often my go-to meal when I was really needing something other than my usual salad.
Savory Vegetable "Rice" Ingredients:
1 medium or small romanesque cauliflower or regular cauliflower (2 1/2 cups of cauliflower pieces before processed)
1 small kohlrabi peeled and cut (*optional)
1 large, ripe, red bell pepper approximately a 6 oz. sized pepper stemmed and seeded (half cut up in pieces, the other half set aside for sauce)
2 persian cucumbers or 6 oz. (or 1 small regular cucumber peeled) julienned into 1 inch noodles (zucchini can be substituted)
3 1/2 cups of cherry or vine ripened tomatoes (2 cups for sauce and 1 1/2 cups cut up for rice)
4 large stalks of celery approximately 11 oz. (6-7 oz. roughly chopped for the sauce and 3-4 oz. finely chopped for rice)
1/2 cup of fine carrot peelings
1/2 cup of pre-soaked sun dried tomatoes (soaked in warm water, preferably for an hour or more depending on thickness) a few pieces for the sauce and the rest for the rice
1 1/2 medjool dates (pitted) OR for better food combining – a 1/2 cup or so of a sweet tasting mango or apple 
15-20 medium sized sweet basil leaves (10 or so for sauce, and the left over for garnish)
1/2 cup of fresh blueberries for garnish (*optional)
Directions:
For rice
Break apart the romanesque or cauliflower and put the pieces along with the peeled & cut stem into the Vitamix or food processor
Add the peeled and cut kohlrabi and blend, or process, both until it becomes a small rice sized consistency
Pour into a large bowl
Add your cut up bell pepper pieces, cucumber (or zucchini) noodles, finely diced celery, chopped tomatoes, fine carrot peelings, and your cut up, soaked sun dried tomatoes
For sauce
In a blender like the Vitamix, blend 2 cups of cherry tomatoes, 1/2 of your red bell pepper, 3 stalks of celery roughly chopped, 1 1/2 pitted medjool dates OR ( you can substitute the dates with a sub-acid fruit like 1/2 cup of mango or sweet apple like a Fuji.)
Blend until all ingredients are mixed well but not too smooth
Add chopped basil to the sauce and stir, or pulse in basil leaves. Be careful not to blend basil because it can become bitter and the basil flavor can get lost in the sauce.
Pour sauce over rice and mix together
Garnish with fresh sweet basil and optional blueberries
You can also add fresh organic corn, chives, cilantro and a pinch of cumin for a Mexican style rice dish!
Raw Savory Vegetable "Rice" Recipe Video